Rahul, Advani spar over terrorism record during Karnataka polls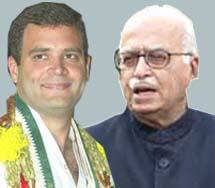 Belgaum, May 19 : Congress General Secretary Rahul Gandhi today lambasted the BJP for not tackling terrorism seriously when it ran the NDA government for six years at the Centre between 1999 and 2004.
He said that the BJP kept silent on the number of killings in Jammu and Kashmir during its rule, and also always tried to avoid discussing the Kandahar episode when it released three dreaded terrorists.
Speaking at a Congress rally in Belgaum ahead of the third phase of Karnataka polls, Rahul claimed that his party had paid a lot, in the form of lives of prime ministers and chief ministers, while tackling terrorism, and that the Congress' track record was far better than that of the BJP.
"They don't tell you how many innocent persons got killed in Kashmir when they were in power. They also tell you that when they ran the NDA government at the Centre, they bowed down to the demands of the terrorists and sent their Foreign Minister to Kandahar to release three terrorists. But, they tell you that the UPA and the Congress is not fighting terrorism," he said and added: "the Congress had lost various prime ministers, various chief ministers and hundreds of party workers while fighting terrorism."
The reference apparently was to the killings of his grandmother Indira Gandhi, father Rajiv Gandhi, and Punjab Chief Minister Beant Singh.
Rahul further said that the Karnataka election will be fought on issue affecting the common man. "The truth is that this election is about your future, the future of your children, their education, the poor and the backward. And it will be fought and won on these very issues," said the Nehru-Gandhi family scion.
Meanwhile, senior BJP leader LK Advani reacted sharply, saying that Rahul Gandhi was not privy to the developments which resulted in the release of the terrorists. He claimed that the decision to release the terrorists was taken at an all-party meeting in which Dr Manmohan Singh was present in the capacity of the Leader of Opposition in the Rajya Sabha.
"It is wrong for someone who was not privy to the all-party meeting which took the decision, to criticize us or our NDA government, for releasing the terrorists. Initially, the demand from terrorists was to release 33 terrorists, but we released only three. Had we not released those terrorists in exchange of 166 passengers onboard the hijacked plane, and had those passengers been blown up, then we would have been criticised for the same," said Advani while speaking to press reporters at Belgaum.
Terrorism has become one of the issues during the Karnataka elections. While the BJP is attacking the UPA for not taking a hard attitude towards the terrorism, the Congress is recalling the record of the NDA government, particularly Kandahar. . (ANI)