A quick look at Sailfish-based Jolla phone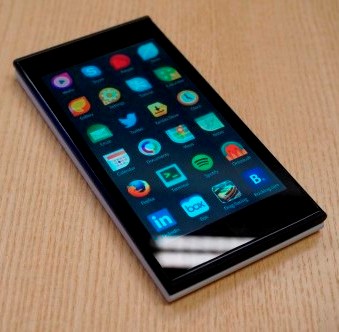 The newly launched Jolla handset is apparently an attempt by some ex-Nokia engineers to grab a share of the lucrative and fast-growth smartphone market.
Running on a new OS called Sailfish, the Jolla smartphone features a 4.5-inch IPS LCD screen that offers a resolution of 960 by 540 pixels, a 1.4GHz dual-core Snapdragon 400 (MSM8930) processor, and two cameras - an 8-megapixel camera on its rear with LED flash and a 2-megapixel camera on its front. 
The list of the new handset's other notable features includes 1GB of RAM, 16GB of storage space (expandable), Wi-Fi, Bluetooth, A-GPS and 4G support.
In addition, it comes equipped with a powerful, removable 2100mAh battery, micro-SIM and microSD slots that allow users to expand the handsets' storage.
Marc Dillon, head of Jolla software and a co-founder of Jolla, said, "We are providing a world-class choice ... that is an alternative for consumers (and) that can be very agile and powerful. For our operating system business we have a huge opportunity."
It is worth-mentioning here that Sailfish is based on MeeGo, which was owned by Finnish handset maker Nokia but ditched in favor of Microsoft's mobile operating system Windows Phone.
The Jolla smartphone is available through Finnish mobile operator DNA for €399.