Punjabi films attract budding singers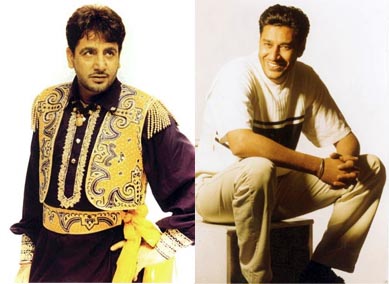 Jalandhar, May 19: Punjabi singers Gurdas Mann and Harbhajan Mann's success is not just inspiring many youngsters towards singing but also instilling a feeling to take to acting world in Punjabi cinema.
Since Roshan Prince of Jalandhar won a music reality show award - `Awwaj Punjab De' - he has become a famous singer in Punjab. The good-looking singer has turned his attention to acting.
He has got his first break in Narinder Syaal's romantic Punjabi film--`Lagda Ishq Ho Gaya'--in which he plays the lead role.
Punjabi film producers now prefer popular singers as actors as the films stand to gain from their fan following.
"Producers believe that the singers already have many fans and their presence in the film in lead role will make the film a hit. They are correct to an extent but I feel the new actors should enter Punjabi cinema after having proper training in acting. Then they will be very good actors. Singers like Harbhajan Mann, Gurdas Mann are already famous world over for their singing and they have got recognition as actors because of their hard work," said Roshan Prince, singer-turned-actor.
The 600,000-dollar budget film `Lagda Ishq Ho Gaya' will soon hit the screens the world over.
In the film, Roshan Prince has sung most of the songs in `Lagda Ishq Ho Gaya' much like Gurdas Maan and Harbhajan Maan, who sing their own songs in their films.
Since taking interest in acting in various music videos, the upcoming Punjabi singers have familiarised themselves with cameras. They say it's helping them in their new roles as actors.
"The reason for taking singers in the film is not only because of their profession but it also depends on the characters in the film. I was making a romantic film and when I saw Roshan Prince's music video on channel MH1, I felt he suited the role of a lover boy in my film. Moreover, he is a singer, so it's an extra benefit for us that he is well-known. And also having done lots of videos, the singer is no longer camera shy," said Film Director Sukhminder Dhanjal.
Punjabi film industry has received a huge boost with almost all leading Punjabi singers and comedians also acting. Comedians Gurpreet Ghuggi, Jaspal Bhatti and Vivek Shauq have not only make a mark in Punjbai films but Hindi Cinema as well.
"Every good looking and handsome boy goes to Mumbai first to struggle, he doesn't focus on Punjabi cinema. But it's not his fault because earlier the Punjabi cinema was not good enough to fascinate young generation. But now it is slowly progressing. Punjabi film industry is not yet ready to give change to new actors, but if Punjabi singers, who already have a fan following, enter the industry, it will be a great help to uplift the industry," said Gurpreet Ghuggi, comedian-turned-actor.
With the success of Punjabi films in India as well as abroad, Bollywood directors like Manmohan Singh are now producing Punjabi films. His recent film is `Munde U. K. De'.
It looks the new generation of Punjabi singers is now ready to rule the Punjabi film industry and take it to places. (ANI)