Posh's bald patches exposed as she steps out with new hairdo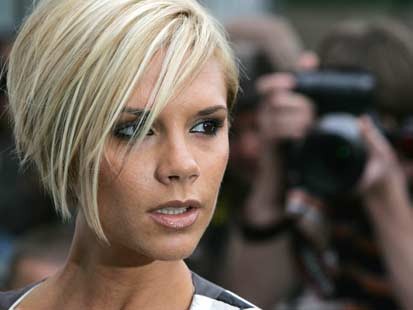 London, Dec 5 : Former Spice Girls member Victoria Beckham left a lasting impression with her latest hairstyle, especially when the bald patches on her head were exposed.
Posh's bald spots were spotted as she stepped out in central London to promote her new clothing range, and beauty experts believe the 34-year-old is paying the price for the years of cutting edge cuts she has had.
Not only do they say that the bald patches are caused by the way she cuts her hair, the latest being a Pop crop, but also by wearing her trademark Baboushka-style extensions.
"Any prolonged stress to the root area of the hair can cause temporary hair loss," the Sun quoted celebrity hairdresser Richard Ward as saying.
"Pony tails repeatedly tied too tight, poor quality synthetic clips worn constantly in the same area, and of course, the constant pressure of extensions, have all been known to result in bald patches due to the pressure on the hair.
"I always advise clients who wear extensions to see an expert and ensure they visit once a month for maintenance. Extensions are applied in sections and then bonded in.
"The bond needs to be close fitting to the scalp, but has to be inserted with the correct level of tension — too tight and the hair can fall out.
"The reason why most people get bald patches is because they fail to go back to their salon for this service," he added. (ANI)