Police shoot dead Bedouin suspected of running arms for Gaza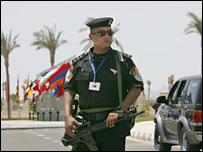 Cairo/Rafah - Egyptian police shot dead a Bedouin in the northern Sinai on Saturday, with the man found to be driving a truck loaded with munitions and heading for Gaza, a security official told the German Press Agency dpa. Both sides exchanged fire in the incident some 40 kilometres west of the city of Arish.
In a separate development, security sources disclosed that security forces have arrested five people with five million Egyptian pounds (some 1 million dollars) which they were planning to smuggle to Gaza through tunnels in Rafah.
The sources said the incident occurred two weeks ago. Three of those arrested were from Rafah and the other two from the town of Sheikh Zuwaid.
The killing of the Bedouin and disclosure of the arrests come a few days after Egypt announced it had arrested 49-member group for planning attacks in Egypt.
Egypt's public prosecutor on Wednesday accused Lebanon's Shiite group Hezbollah of sending operatives to Egypt to carry out attacks in the country and to smuggle weapons and money to Hamas in the Gaza Strip.
In a statement released Wednesday evening Abdel-Magid Mohammed accused Hezbollah leader Hassan Nasrallah of dispatching agents to Egypt during Israel's offensive in the Gaza Strip.
It also accused these operatives of spying on resorts in Sinai, and renting rooms in fashionable districts where Hezbollah agents held training workshops on spreading Shiite thought in Egypt.
In a televised speech in Lebanon on Friday evening, Nasrallah angrily denied the allegations.(dpa)