PM Modi posts selfie with Fijian counterpart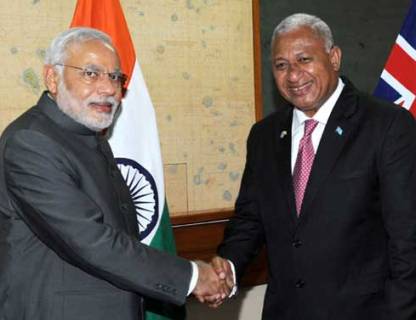 New Delhi, Nov 20 : Barely few hours after crossing the eight-million followers mark on micro-blogging site Twitter, Prime Minister Narendra Modi posted a selfie with his Fijian counterpart Frank Bainimarama.
The picture, taken during the Prime Minister's visit to Suva on Wednesday, was posted by Prime Minister Bainimarama, which the former quickly retweeted.
"PM Bainimarama took our selfie before the banquet he hosted yesterday evening," Prime Minister Modi tweeted, while posting a picture capturing the moment when the two leaders were posing for the selfie.
During his visit to Suva, Prime Minister Modi praised Fiji 's Constitution, stating that it reflected the will of an enlightened nation, guaranteed freedoms and rights to the citizens, ensured their basic needs and empowered them.
Prime Minister Modi also held bilateral talks with Prime Minister Bainimarama and the two leaders signed several agreements. (ANI)