Player Samsung YP-P2 is Strong Competitor for iPod Touch
Samsung YP-P2 is one of the three newest players, with which Samsung intends to "blow up" the market and steal into the number of leaders. The feature of this model in this series is the touch screen in 16:9 format and absolutely special control system ?ultitouch, which will also be applied in the new iPod Touch player.
Design
The body of the player is executed from glossy black plastic with slightly oblique lateral sides. Certainly, finger prints are visible on it very well, therefore we advise to get a cover at once – it will protect also the touch screen. The body, in a modern way, is thin and its thickness is only 9 mm. practically all forward surface is occupied by the 3-inch display. Under it light indicator is located, which becomes red after the player is turned on, blocking of keys and connection to computer, green – in the end of charging and dark blue – when Bluetooth is active.
All external management is limited to buttons to increase/reduce volume on the right and at the left - to switch on/switch off (it is "Start-up/Pause") and blocking. On the top of the player, there is an aperture for a thong, and on its bottom are located sockets for USB-cord and headphones, and also an aperture of the built in microphone (that is surprising as there aren't present any hardware functions of dictaphone in the player).
Management
At switching the player on affably blinks a red circle under the display and menu appears on the screen. It can be presented in three styles – by a matrix from all nine items, three vertically located items of the menu or three items of the menu below horizontally. In two last cases transition to other items is made by moving of fingers on the screen – vertically or horizontally. As wall-papers on the screen it is possible to install any picture, including own photo.
Here we have reached to the most interesting – the way of management. It demands some training, but it seems to us that in the near future such mode of work with the interface (without stylus, by continuous movements of fingers) will becomes not less habitual as now are work with computer mouse or touchpad in notebooks. For transition between sections, and also rewinds of tracks and some other actions need to be lead only a finger on the screen in the necessary direction – quickly and confidently. The same confident movements demands both pressing icons and virtual buttons.
Music, headphones

Owing to the good headphones, which are integrated with the system of strengthening of basses, sounding of the player pleases with its depth and reliability. Besides, Samsung writes about special technology of sound transfer - DNSe owing to which the sound should sound more naturally.
Looks of the screen during music playing can be chosen from six types, including image of an album cover or the information about the singer, an album and genre.
Rewind inside a track is carried out either by pressing buttons with arrows, or by smooth moving on the strip showing length of the track. Volume also can be adjusted in two ways – vertical movement on the screen and usual buttons on the body.
Button DNSe consistently changes modes of the equalizer. In total there are installed 10 presets, and there is one more user's. The mode of the equalizer also can be established through the menu.
Radio
The FM-tuner (on the maximal sensitivity) has shown simply phenomenal results: for 10 seconds 27 stations have been found. In total there are three levels of sensitivity – high, average and low. It is very convenient to choose the already found stations –by means of big round buttons. At manual adjustment, adjustment is made by smooth moving of the finger on a frequency scale.
Screen, Video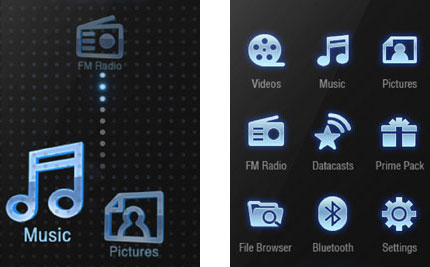 Viewing of video clips on screen of Samsung YP-P2 is true pleasure. The screen is big (3 inches, 480?272 pixels resolution), bright and contrasting, has big angles of view and it is calculated on viewing of wide-screen rollers as its sides has ratio of 16:9. Colors on the screen are soft, there aren't present any jerks and artifacts (we were watching the recorded in the player computer cartoon and a trailer of the new movie War of dragons).
Management during viewing is carried out by emerging screen buttons, increasing or reducing of the sound – by vertical movements on the screen, and scrolling horizontal.
Reproduction of video for this player isn't less important task than music and it copes with it "perfectly well". Formats WMV and MPEG4 are supported.
Books, Alarm clock, Calendar, World time
All the listed functions are in section « Prime Pack » with an icon in the form of a gift. At once it is clear, that these are additional functions, which are present here in the form of bonus.

Nevertheless, all of them are realized at high enough level. At reading books it is possible to choose from several options of fonts and background colors, there is a function of bookmarks. It is possible to read without interrupting playing of music.
The alarm clock, certainly, can be heard, only if you sleep with headphones. Or it is possible to use it as timer in the course of the day. As melody of the alarm clock you can set any composition. The alarm clock will work once, every day, from Monday till Friday, from Monday till Saturday or only on Saturday and Sunday – at one's choice.
The calendar and Hours of world time do not demand any adjustments – it simply shows days of week in any month and time in any time zone respectively.
Bluetooth
The Bluetooth-module allows the connecting of up to three wireless headphones. Possibilities to see other devices at least in this player are not present, but it is probable that they will appear in new versions of the player. By default the name of the device is Samsung YP-P2. It can be changed to any another by means of screen keyboard. The screen keyboard is required and to enter the code at synchronization.
Synchronization with a computer
The player allows saving information in memory only after synchronization through program Samsung Media Studio version 6.0. The program is on the disk in the complete set; also it will be possible to download from the site of the company when the player goes on sale. The program has great enough functionalities, including the on-line order of music through Samsung's shop.
Operating time
We checked the work of the player in listening mode with constantly included display and Bluetooth-module. In such a mode the player has worked about five hours – as much technical characteristics promise in a mode of reproduction of video. In a mode of audio the manufacturer promises more - till 35 hours, but for this purpose we should give up using Bluetooth and viewing of video clips.
Complete set
In a transparent box together with the player there are headphones, USB-cord, CD and player-rest. It isn't simple to take out the player from the holder, it is necessary to press hard on the site of fastening from above, and then to pull for the transparent strip with inscription PULL sideways. The instruction is on the CD, together with Samsung Media Studio program.
To resume
This player draws attention at first sight. It is checked up that as soon as you start making manipulations with the screen among strangers, the interest to the device in your hands will repeatedly increase. It is possible to assume, that on the basis of this model new versions will be equipped, for example, with Dictaphone, opportunity of data transmission to another device through Bluetooth or will be used as hands-free-sets with phone, or this model will expand the functionality with new versions of ad-ons.
The player will be released in versions of 2, 4 and 8 GB, in black, white and dark-red body.
In USA it is still only possible to order it under the preliminary price of $249 in 8 GB version.
Advantages
* Innovative control system
* Stylish design
* Excellent display
* Headphones with good sound
* Wide functionality – reading of texts, radio, alarm clock, calendar, world time.
* Opportunity of connecting wireless headphones

Disadvantages
* Possibly, overestimated price during the first time of sales
* Necessity of synchronization through Samsung Media Studio
* There is no function of transferring files in flash-drive mode
* Necessity of training at the first acquaintance with the control system and high probability of erroneous pressing.