Pfizer Bounces On Strong Q2 Results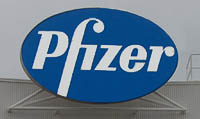 On reporting a 618.19% increase in net profit in Q2 May 2007, Pfizer lifted 1.18% to Rs 820.10 in afternoon trades. The quarterly results were declared during the market hours.
During the day, the scrip touched an intraday high of Rs 840 and an intraday low of Rs 808. It has had its 52-week high of Rs 965 on 10 October 2006 and 52-week low Rs 666.10 on 28 July 2006.
On BSE, there were 93,947 shares for trading on the counter. In the last one quarter, the standard daily volume in the stock was 9,795 shares. Its share price declined from Rs 852.20 to Rs 802.60 on 22 June 2007. It rose from here to reach Rs 810.50 on 27 June 2007.
In the past one month to 27 June 2007, the stock price had fallen 4.99% as against the Sensex's 0.53% declension. It had underperformed the stock market in the past three months phase as well, rising 1.70% as against the Sensex's 11.18% appreciation.
In 17 March, 2007, it had disposed of its Chandigarh property to C S J Infrastructure for Rs 278 crore. The company got an advance payment of Rs 27.8 crore and the same was accounted in the quarter ended on 30 November 2006. The Chandigarh plant had ceased its functioning in November 2003.
Pfizer's net earnings soared 618.19% to Rs 257.76 crore in Q2 May 2007 versus Rs 35.89 crore in Q2 May 2006. Sales zoomed 140.13% to Rs 455.75 in Q2 May 2007 as compared to Rs 189.79 crore in Q2 May 2006.
Pfizer's pharmaceuticals product collection spans a broad variety of curative categories from vitamins supplements and nutritionals to antibiotics and cardiovasculars.