Peugeot starts accepting orders for Plug-in-Hybrid 3008 GT Hybrid4 in France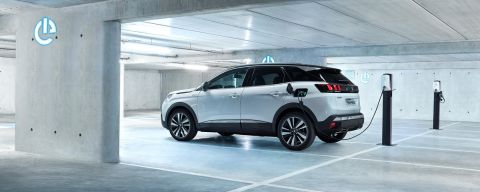 French automaker Peugeot, part of Groupe PSA, has introduced a new electric vehicle --- the Plug-in-Hybrid 3008 GT Hybrid4. The vehicle is a part-time electric SUV, which is now available for orders in France. The orders for the vehicle in Germany will be opened in October 2019.
In introducing the Plug-in-Hybrid 3008 GT Hybrid4, Peugeot said that the vehicle is based on the EMP2 platform, just like two other Groupe PSA models --- the DS 7 Crossback E-Tense 4×4 and the Opel Grandland X Hybrid4. The powertrain of the 3008 GT Hybrid4 is also the same as that of those two models.
Peugeot has revealed that the newly introduced 3008 GT Hybrid4 will initially be available with all-wheel drive, but will subsequently be supplemented by a variant with a two-wheel drive.
According to the technical details shared by Peugeot, the all-wheel drive 3008 GT Hybrid4 is outfitted with 1.6-litre petrol engine, a 13.2 kWh battery pack, and two electric motors --- an 81 kW front electric motor, and 83 kW rear electric motor . The vehicle's total system output is 220 kW.
The 3008 GT Hybrid4 has a purely electric range of up to 59 km (WLTP). The plug-in battery of the vehicle takes a maximum of 3.5 hours for a full recharge on a wallbox. Optionally, the charging capacity of the single-phase AC onboard charger can be increased two times to 7.4 kW for a 50% reduction in charging time.