Pervez Musharraf A Valued Partner, Says US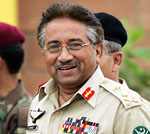 The Bush administration said its views on significance of Pakistan in war on terror have remained unchanged after the operation of Lal Masjid, and restated that President Pervez Musharraf was a valued partner and ally.
State Department Deputy Spokesman Tom Casey said, "I don't think our views on Pakistan are any different today than they were yesterday or last week."
"Pakistan is an important country in the region. President Musharraf has been a valued partner and ally," he added.
Casey replied that US was working with Pakistan to try and deal with the concerns, when he was being asked how concerned the US was about the increasing split between Musharraf and religious forces.
He said the both governments were specifically concerned about the Federally Administered Tribal Areas were Taliban were "infiltration from across the border (Afghanistan)."
Casey said the US "share an understanding" with Musharraf "of the future that we would like to see for Pakistan -- which is for a modern, moderate Islamic state that works with the United States and other members of the international community to fight against extremists like Al Qaeda and the Taliban."