Pak opposition leaders Imran Khan, Sherry Rehman to visit Washington next week
Washington,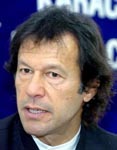 Jan. 21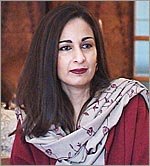 : Pakistani opposition leaders Imran Khan, Javed Leghari and Sherry Rehman will visit Washington from Monday to convince the American political leadership to put pressure on the Musharraf regime to call for free and fair elections and an end to US government support for the Musharraf regime.
Pakistan Tehreek-e-Insaf (PTI) chief Imran Khan will arrive in Washington on Monday. He will be speaking on the situation in Pakistan at the Centre for Strategic and International Studies and Amnesty International, besides addressing a news conference at the National Press Club.
According to the Daily Times, Imran will also be the principal guest at a 100 dollar a plate dinner, which is already sold out. Khan will also be meeting some key members of Congress and a meeting or two at the State Department is also on the cards, although no details have so far become available.
A Pakistan People's Party (PPP) delegation comprising central information secretary of the party, Sherry Rehman, and fellow PPP former member of the National Assembly Javed Leghar will also be meeting US officials, media representatives besides making appearances at some think tanks.
Amnesty International is arranging a meeting for them in order to get their perspective of the situation in Pakistan and the February 18 elections. (ANI)