OYO Founder Ritesh Agarwal Talks About Tough Times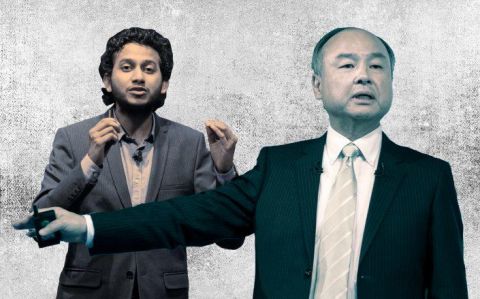 OYO Rooms is facing tough times and the company recently announced that it would reduce its staff count in India and in other markets. Few months back, OYO was claiming to be the fastest growing budget hotels platform. For OYO, the coronavirus pandemic has come at such a time that the company might find it difficult to continue with its regular operations even after the pandemic is under control. Its main investor SoftBank is also pulling back on support, mainly after the WeWork IPO debacle.
In a recent interview, Agarwal accepted that he is facing tough times. He said, "Pre WeWork, all our decisions were iconic. Later it seemed easy to blame us for all we decided."
OYO has an interesting business model but like many other startups which have been successful in raising big money from investors, it faces similar problems. When the money comes easy, founders of such startups start burning the money. OYO, Lyft, Ola Cabs, Myntra, SnapDeal, Swiggy, PayTM and Zomato are a few such names. These companies can always receive positive reviews from the media companies by using the PR agencies. However, the inner troubles brewing at these companies and the money the bleed on everyday basis, is a scary story that is known to very few people. Such stories only come out when the founders of these companies can't hide the obvious things anymore.
Some companies have been able to exit by selling the whole setup (including the losses) to their competitor. The competitor hasn't seen what the company is offering, they just wanted to kill the competition. And, the competitors were also having backing from big investors. In short, these are pyramids built on strong feeling that if you remain the only provider of a specific service in the market, you will one day start charging your customer and will make money. These business models do not consider a few risk factors.
Every Lucrative Market Keeps on Attracting New Entrepreneurs
Big investors and business houses keep on looking for new opportunities. Reliance Group continued watching the telecom sector for years. When the time was ripe, Mukesh Ambani literally killed the margins for telecom sector. He had setup Jio's telecom network, launched services and offered free 4G internet and calling. Jio was quite easily able to kick out many telecom operators from the market. Only Airtel was able to survive the challenge posed by Jio.
Consumer isn't loyal anymore
Startups should consider the fact that consumer isn't as loyal as it was in the past. Consumers can shift very easily to the new company if they get better service and discounts. The cost of acquiring customer shouldn't be high. If you start your business by offering massive discounts, you will simply not be able to sustain it for long. And, the consumer that you have roped in with discounts, will slip away to your newest competitor the discount they are offering.
There are always such big business houses which can enter the market and shake the dynamics. Such game changers can kill a startup's "cunning plan" to completely own the market.
There have been reports about SoftBank chairman Masayoshi Son putting the pressure on OYO to show profit. If you ask anyone who knows the market, the timing chosen by Masayoshi Son is wrong with coronavirus epidemic. OYO won't be profitable for next few quarters even if the company starts pulling all strings to manage its operations.
SoftBank has overvalued OYO, just like it did overvalue WeWork. Till September 2018, OYO was valued at USD 900 million and this changed when SoftBank invested more money in the company at USD 5 billion valuation. By end of 2019, Agarwal decided to buyback some of the stock in OYO at valuation of USD 10 billion. Ritesh Agarwal was lauded by media as the smartest young CEO in India and also the youngest billionaire in India. It would be prudent to let the market decide valuation of a company, not a group of high net-worth investors. But as OYO won't be tapping IPO market any time soon, its valuation will still be decided by investment rounds by Venture Capitalists.
If OYO thinks that it can own the budget hotels segment, it is mistaken. And, SoftBank is already facing tough times for making many mistakes and offering extremely high valuations to some ideas that have to show results. Whenever Masayoshi Son accepts that he overvalued OYO, it wouldn't be difficult to write-off a few billions from the valuation of the startup.
It would be very interesting to see how OYO evolves with time. However, it would be even more interesting to see if someone like Sucheta Dalal from MoneyLife magazine investigates what is wrong with OYO and its strategy.
The opinion presented in this article is personal and doesn't represent views of TopNews