Out of boom and bust in Dubai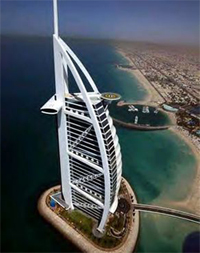 Cairo/Dubai, Dec 31 - Dubai was the glitz, the glamour and the good life for many. The buildings were the fanciest, newest and tallest. The emirate had little water, but the champagne flowed freely.
The city state's leaders, and the tourists and investors who flocked for the gold rush came to expect nothing but the best.
The property market climbed with the towers vying to be the world's tallest, driving a quarter of the emirate's economic growth. But while the towers still stand, some incomplete and their future uncertain, the property market has come crashing to the ground, its future equally in doubt.
"We knew there was a real-estate bubble," a senior analyst of emerging markets at a major European bank told DPA on condition of anonymity.
"But the area is oil-rich and cash-rich, so the extent of the problems came as a surprise," he admitted.
The other shock, for some at least, came when Dubai said it would not guarantee its companies' debts. Many investors had seen investment in a state-owned firm as akin to owning a sovereign bond with fantastic yields.
State-owned giant Dubai World's Nov 25 announcement that it would need a freeze on its debts shook confidence to its core. The initial slow and erratic trickle of information about Dubai's response did nothing to reassure investors.
But subsequent statements steadied markets, but though some investors may now view UAE ruler Sheikh Mohammed bin Rashid al-Maktoum's halcyon vision more cautiously, recalling his bullish bluster on the safety of Dubai's debt at a Merrill Lynch forum only weeks before the crisis hit.
"In the short term, investors are still worried, panicked," said Madhi Mattar, chief economist at Shuaa capital, a Dubai-based asset manager. "We are in middle of a crisis now."
Over time, "once the Dubai World dust settles", the crisis will prompt beneficial changes, leading to more sustainable growth, Mattar predicted.
With Dubai and the United Arab Emirates drafting bankruptcy laws, the end result of what happens when a company defaults or becomes insolvent will no longer be as opaque.
The past lack of such laws has led several bankers to term the Gulf emirates "immature" financial centres.
Mattar believes the crisis will mature Dubai.
"The only way to move in the right direction is to have a problem and make a correction," he said.
Abu Dhabi's last-minute, $10 billion bailout for its oil-poor neighbour calmed markets further, though as 2009 drew to a close, vexing questions remained.
"With mountains of debt to be restructured by Dubai in the medium term, Abu Dhabi's bailout, while easing immediate investor worries about sovereign support for struggling Dubai companies, only scratches the surface in terms of the emirate's debt troubles," said John Sfakianakis, chief economist at BSF - Credit Agricole.
Most analysts now say they believe a total meltdown in the Gulf has been prevented, and that whatever new surprises 2010 brings can be contained.
"Dubai has always been investor-friendly, and I don't think that will change," Shuaa's Mattar said. "Dubai will not make any decision that will not allow it to go to capital markets in future and raise more capital."
But the return to real, sustained growth may take several years.
"I don't want to predict what will happen next year. It is too uncertain right now," said a senior banker.
The real estate sector, a prime source of profits, is now in tatters. Projects have been closed, workers laid off. A domino effect has forced other companies to close. Foreigners are returning home, leaving debt behind.
While analysts see more debt problems coming to light in the coming year, Dubai may be helped by the infrastructure it built, making itself a transport and logistics hub. If the region's economy grows, these and other services could become cash cows.
But as the year closed, questions haunted those around the world who hold stakes in the region: What political price for Dubai for Abu Dhabi's bailout? What assets will Dubai have to sell off in order to pay down creditors and regain a capital flow? Is Dubai's gilded era of high-stakes gambles over?
Few professed to hold the answers. But as 2010 opens, many around the world will watch to see how the UAE's rulers respond and if the result is a more mature market in the Gulf.  (dpa)