NOIDA rape case: Renuka gives tongue-lashing to Mayawati, NCW constitutes probe committee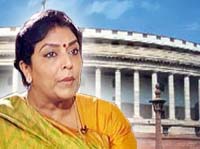 NOIDA (Uttar Pradesh), Jan. 7 : Even as Union Minister of State for Women and Child Development (Indepedent Charge) Renuka Chaudhary came down heavily on Uttar Pradesh Chief Minister Mayawati for not doing enough to protect women in the state, t he National Commission for Women (NCW) on Wednesday constituted a two-member committee to probe the gang rape of an MBA student in NOIDA.
The NCW team comprising members Neeva Konwar and Wansuk Syiem today visited NOIDA to inquire into the incident, officials said.
The 24-year old MBA student claimed that she was gangraped by ten young men in Sector 39 near a shopping mall in NOIDA. Five of the ten have been arrested.
Earlier, Chaudhary said such incidents put a question mark on the role of the State Government in maintaining law and order.
She demanded that none of the five arrested boys be given bail.
"How did they think that they can do such a thing and get away? And when that question arises you start questioning the Government. So, I think we have to start questioning the Chief Minister of Uttar Pradesh... what she has to say about this," Chaudhary said.
"You have Nithari and Arushi cases, you have NOIDA rapes. And that is sad if you can''t solve the problem. I think you (Mayawati) should stop dreaming of being the Prime Minister," she added.
Asked what punishment did she think should be given to the culprits, Renuka said, "It is a non-bailable offence that should be... that none of them should get bail and after that I believe that the people have to believe that there is a genuine investigation and what kind of people we are that we cannot protect our daughters."
Mayawati and Chaudhary had recently engaged into a war of words in relation to the Arushi murder and the Nithari child killings. (ANI)