No Decision Yet On Fuel Cost Increase - Murli Deora
New Delhi: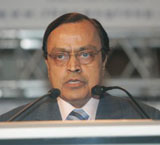 According to the Petroleum Minister, Murli Deora that the government has not taken any decision to raise prices of transport fuels but will shortly hold meeting with oil companies on how to undertake the situation actuated by high global crude prices.
"We really do not want to hike the petroleum prices. But we are helpless when the international price increase like this," Deora told.
Mr. Deora was referring to worldwide crude rates hitting the $78 a barrel in recent weeks.
Disallowing information that the fuel cost might be hiked up after Thursday's presidential election.
He added, "The government has not taken a decision yet. But we will be discussing the issue with the oil companies on how to tackle the crisis."
Media reports have been considering that the government has been mulling over an enhancement of Rs 2-2.50 a litre in petrol ad Rs 1-1.50 a litre in diesel in a bid to check the rising losses of state-owned oil marketing companies.