No country for single women - shortage of men in New Zealand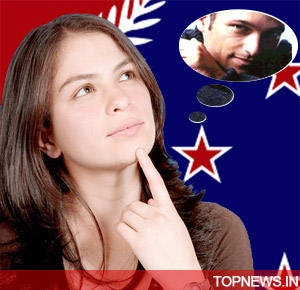 Wellington - Single women have a problem finding a husband or partner in New Zealand - they outnumber men.
There are 35,000 more women in the prime marrying age group of 20 to 45, according to Statistics New Zealand and the situation is so bad that a 32-year-old Kiwi woman has as much chance of finding a partner her age as an 82-year-old.
"The reason being the 82-year-old men are dead and the 32-year-old men aren't there," according to international demographer Bernard Salt, who has studied what he calls the "man drought" in New Zealand and Australia.
"Young Kiwis in their mid to late-20s leave the country, but it's mostly the women who come back," he said, noting that New Zealand suffered the same male shortage as Mexico.
"While Mexican men of that age are in America, Kiwi men are in Australia, London, Dubai," Salt said.
It has long been the custom of young New Zealanders of both sexes to leave their isolated South Pacific homeland for what they call "OE" (overseas experience).
They usually start in neighbouring Australia and then head for Britain, New Zealand's former Mother Country, which sent its first migrant settlers to New Zealand in the mid-19th century to establish the colony.
Salt said research indicated that men, eager "to test their mettle in a bigger market," were more likely to stay in the country they went to than women, who tended to return home after a few years to settle down and raise a family.
A study in 2006 showed that there were one-third more New Zealand women graduates aged between 25 and 30 than similarly qualified men.
Statistics New Zealand figures show that there are 96,078 more women in New Zealand than men. But Salt said women could find a man, if they knew where to look - not in the cities, but in the countryside where young farmers tend to stay on their land instead of wandering overseas.
On the Kapiti Coast, 50 kilometres north of the capital Wellington, there are only 89 men for every 100 women in the 15-39 age group.
But in lesser-populated South Island areas like Southland and the Mackenzie country, in neighbouring Otago province, there are plenty of young men and a shortage of marriageable women, Salt said. He predicted that single women would soon start "geography dating," or using the internet to find "man dams" - places with more available men.
Salt said this "interactive targeting" of male hotspots could change intra-national migration flows within a decade. It's not just a matter of love and marriage. Business analysts point out that the gender imbalance has serious implications for the economy.
They say too many young New Zealanders are now spending their peak earning and tax-paying years working overseas and providing little economic return to their native land for the money the state spent to educate and train them.
Many do not return until close to retirement and are then paid a state pension to which they have made little contribution. Tourism New Zealand - always on the look out for chances to boost the flow of visitors who are so important to the economy - has launched a new marketing campaign aimed at wooing young British men with the enticement of an abundance of desirable and man-hungry Kiwi women.
Single male tourists thinking of a short holiday in New Zealand may want to rethink their plans and consider staying a bit longer, if they are in the market for a relationship, a spokeswoman said. (dpa)