Muslim cleric detained over Somalia suicide bombs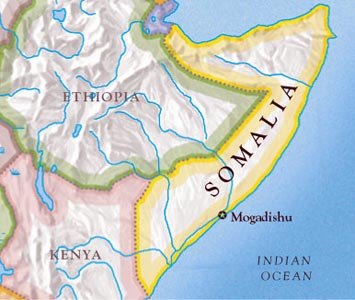 Nairobi/Mogadishu - A prominent Muslim cleric has been arrested in connection with a wave of suicide bomb attacks in Somalia, reports said Thursday.
Five car bombs ripped through the breakaway Somaliland and Puntland regions on Wednesday, killing at least 26 people.
Most of the casualties came in Somaliland's capital Hargeysa, where bombs targeted the Ethiopian embassy, the United Nations Development Programme (UNDP) compound, and Somaliland's presidential palace.
Two bombs also exploded in Puntland at the offices of the Puntland Intelligence Service in the port town of Bosasso.
The BBC reported that Muslim cleric Sheikh Mohamed Ismail was arrested in a raid in Bosasso.
An aid worker based in Hargeysa told Deutsche Presse-Agentur dpa that the majority of foreign workers were being evacuated on Thursday.
According to the BBC, police in Hargeysa are probing leads on the house where the bombs were made and the market where the cars used in the bombings were bought.
Puntland and Somaliland are normally relatively peaceful compared to central and southern Somalia, where a bloody insurgency is raging.
Nobody claimed responsibility for the bombs immediately, but insurgent group al-Shabaab is the main suspect.
Insurgents have been fighting Somalia's transitional federal government since Ethiopian troops helped oust the Union of Islamic Courts in early 2007.
A ceasefire, due to come into force on November 5, was agreed on Sunday night. The ceasefire was part of a deal agreed in June.
However, main insurgent group al-Shabaab has rejected the deal and vowed to keep fighting until Ethiopian forces leave Somalia.
The bomb attacks were timed to coincide with a meeting between the Somali government and regional heads of state in Nairobi, the capital of neighbouring Kenya.
The Inter-Governmental Authority on Regional Development (Igad) told Somali President Abdullahi Yusuf and Prime Minister Nur Hassan Hussein to end political infighting and form a new cabinet within two weeks.
Aid agencies say almost 10,000 civilians have died and almost 1 million have fled, especially from the capital city Mogadishu, during the insurgency.
The Horn of Africa nation has been plagued by chaos and civil war since the ouster of dictator Mohamed Siad Barre in 1991. (dpa)