Mubarak retrial resumes in Egypt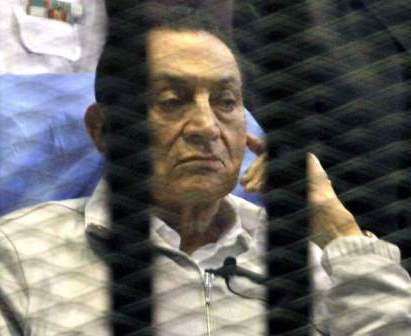 Cairo, Dec 15 : Egypt's former president Hosni Mubarak was brought to a criminal court, as former chief of staff of the armed forces Sami Anan will testify over charges against him, media reported Sunday.
In a confidential session, the court will listen to Anan's testimony against Mubarak for killing protestors in the 2011 upheaval, and exporting gas to Israel at lower prices compared to the international market, Xinhua reported.
Egypt's former army chief and Defence Minister Hussein Tantawi gave testimony in Saturday hearings on the same charges.
Former intelligence chief Murad Muwafi, the head of the national security authority, and three other former security officials testified last month.
The details about testimonies of former high ranking officials will be made public later Sunday, said Judge Mahmoud Kamel, presiding Mubarak's retrial.
All the hearings were held in closed-door sessions for security reasons.
Both Tantawi, who headed the Supreme Council of the Armed Forces that took power after Mubarak's fall, and Anan's testimonies are assumed to answer suspicion whether Mubarak ordered the use of lethal force against peaceful protesters.
Mubarak is now kept under house arrest in Maadi Military Hospital here, after he was released from jail in August in a case related to squandering public money.
His house arrest period expired, but Mubarak chose to stay in hospital to avoid unrest in the country. (IANS)