Modi set to become CM for third time, to be sworn on Dec 27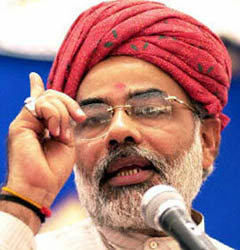 Ahmedabad, Dec 23: Gujarat Chief Minister Narendra Modi is all set to return to power as the BJP is poised for a fourth straight victory in the Assembly elections winning 20 seats and leading in 99 constituencies.
Modi, clearly in a celebratory mood, has already sent out an SMS message asserting, "I was the CM, I will remain the CM. For me CM means Common Man."
Modi, who will take oath as Chief Minister for a third time on December 27, is leading in Maninagar here while his ministerial colleagues Amit Shah (Home), Vajubhai Vala (Finance), Anandiben Patel (Education) were ahead in their constituencies.
The BJP is also set to retain or gain slightly its 50 per cent vote share; Congress may get around 42 per cent votes.
Unexpectedly, the BJP, which had swept Central Gujarat last time, has lost ground there. But it has made surprising gains in Saurashtra and South Gujarat that is considered the bastion of Modi's bete noire Keshubhai Patel.
Clearly, Modi has won the Patels and Kolis over by some last minute deft selection of Patel candidates.
The opposition Congress has won seven seats and was ahead in 50 seats in a performance that is marginally better than in the last elections in 2002 when it won 51 seats. 'Others' were ahead in six seats. (ANI)