MindTree net profit more than doubled in first quarter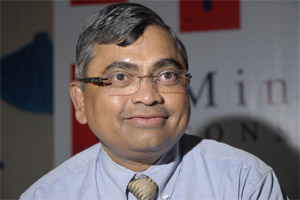 IT sector firm, MindTree has said that its standalone net profit has more than doubled to Rs 89 crore during the first quarter of the financial year.
The company's standalone net profit was recorded at Rs 34.6 crore in the same quarter of the previous year. The total revenues of the firm increased 36.2 per cent to Rs 563 crore during the April-June quarter compared to Rs 413.1in the first quarter of 2011.
"The global demand environment continues to be challenging as customers are cautious in their IT spending. However, with our strategic initiatives, we expect to achieve Nasscom's current industry estimates for FY 2012-13," said MindTree CEO and Managing Director Krishnakumar Natarajan.
Natarajan also said that the company's margins have been improving over the last 4 quarters and that the company will focus on operational efficiencies in the coming future. The company had a total of 245 customers as of June 30, 2012.
The company ahs added 272 people gross during the first quarter of the 2012-13 financial year. The company's total workforce now stands at 10,830.
The shares of the company rose 5.46 per cent to Rs 694.15 on the BSE.