Mangalore Chemicals and Fertilizers Ltd
Submitted by Shalini Kakkad on Thu, 12/20/2007 - 14:08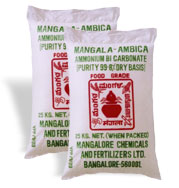 Stock market analyst E Mathew has suggested a 'buy' for Mangalore Chemcials and Fert. The stock has gained around 5 percent in yesterday's trading session, and marked its closure at Rs 43.20.
The company has a good business model and it may soon come out with robust results.
The short term outlook for the stock is good. The stock is good for an investment over a period of 3-4 weeks. The stock has seen a 52-week high of Rs 55 and low of Rs 11.09.
At current market price of Rs 43, the stock has trading with a P/E of 15.65.
Interested investors can purchase Mangalore Chemicals and Fertilizers around Rs 41-42 with a stop loss of Rs 38 for a short-term target of Rs 55.
As per profit and loss account, company has registered a net profit of Rs 27.47 crore for year ended March 2007 and Rs 14.25 crore for quarter ending September 2007.
Nat Fert, Chambal Fert and Nagarjuna Fert are some stocks from the same sector, which looks brilliant for short term trading.