Mahindra's upcoming electric SUVs to use components from Volkswagen's MEB platform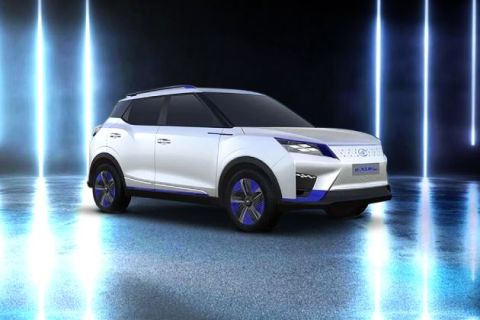 Mahindra & Mahindra (M&M), India's leading manufacturer of sports utility vehicles (SUVs), is working on multiple all-electric models that will enter series production starting sometime in 2024.
Earlier this week, M&M previewed a total of five new electric SUVs that will use EV components from Volkswagen Group's Modular electric drive matrix (MEB) platform. Presenting the upcoming five electric SUVs under the XUV and BE brands, the manufacturer revealed that the electric SUVs will be based on the company's new INGLO modular EV platform.
INGLO is actually an acronym created by combining the initial letters of "India" and "global". As mentioned above, this modular EV platform makes use of VW MEB components. However, it remains unclear which specific EV components will be sourced from the MEB architecture.
Using LFP batteries, INGLO will enable the SUVs to pursue a common battery pack design with lean modules and consistent cell-to-pack technology using two different avant-garde cell architectures, viz. Blade and Prismatic. Such EVs' battery capacity will range from 60 to 80 kWh, while DC fast-charging will be of up to 175 kW, which will enable a charging time to 80 per cent SoC in less than half an hour. However, the manufacturer hasn't announced range estimates for any of its five previewed EVs.
Presenting the five electric SUVs, M&M Group Chairman Anand Mahindra said, "Today with government support, rapid lowering of the cost of ownership and increased consumer awareness of environmental awareness issues, we believe that the time is ripe and right for us to enter the four-wheeler markets with our range of battery electric vehicles."
The SUVs previewed by the company feature the group's new "Heartcore" design philosophy that the manufacturer describes as a "blend of unmissable presence, inner strength and attitude." All of the five SUVs have been designed by the Banbury, Oxfordshire-based Mahindra Advanced Design Europe Studio.
The upcoming SUVs feature angular and muscular surfaces, monolithic exterior proportions, hi-tech interiors and generous displays. In the case of XUV vehicles and the BE.07, the displays cover the entire width of the dashboard. Each brand boasts its own front design identity that is shared by all the electric models.
INGLO, which is set to underpin Mahindra's all upcoming EVs, claims to offer class-leading safety standards, thrilling performance, outstanding range, striking efficiency, consummate driving dynamics, and intelligent HMI. The innovative platform is also capable of delivering a multi-sensorial driving experience with a futuristic, augmented reality-enabled heads-up display, 5G network connectivity, and over-the-air (OTA) updates.