Lok Sabha MP killed in accident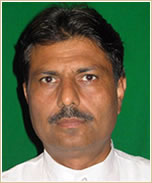 Lok Sabha member Chaudhary Munawwar Hasan was killed in a road accident near Palwal in Haryana on Wednesday.
He was 45.
Hasan "was brought dead to Apollo Hospital at 3 am," a hospital spokesperson said.
Hasan was elected on a Samajwadi Party ticket from Muzaffarnagar in Uttar Pradesh in 2004, had defected to BSP at the time of July 22 trust votes.
He was expelled by the Samajwadi Party which also filed a petition seeking his disqualification from the House.
The petition is pending with the Lok Sabha Speaker. He was also elected to the Lok Sabha in 1996 on an SP ticket.