LG Rolls Out GB106 and GB110 Handsets In India
Submitted by Darpana Kutty on Mon, 01/19/2009 - 11:39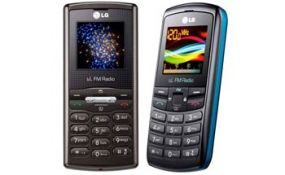 Technology giant LG has recently released its two new budget handsets, the GB110 and the GB106 for its Indian users.
Targeting low to mid range customers, both candybar phones comes equipped with quite a few features.
The new LG GB106 mobile phone, which is cheaper of the two, sports a decent 1.5 inch 65k color screen and has 1.5MB of memory.
The phone also features a built-in FM Radio and a five-way D-pad. Moreover, the users do not require connecting the handset to listen to radio broadcasts on this phone.
The company claims that this slender phone offers talk time of up to 4 hours and standby of up to 400 hours.
On the other hand, the other newly launched phone LG GB110 takes users to a slightly higher level.
It is almost similar to the LG GB106 by its features. The main difference is microSD card slot supporting up to 2GB of memory.
The GB110 also adds a VGA camera to the features list.
LG has not disclosed the pricing and availability details of the phones up till now.
But, it is expected that the new handsets may hit the market this month.