L&T receives various orders worth Rs. 3560 Crore
India's biggest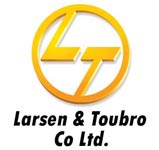 engineering firm, Larsen & Toubro (L&T) has announced that the company has secured various new projects worth over Rs 3500 crore.
The biggest order valued at Rs. 2000 crore from Kingston Properties, which involves construction of various office & residential buildings in Mumbai, to be developed over a span of four years.
Apart from this project the Buildings and Factories (B&F) business unit of L&T`s Construction Division (ECC) secured orders for many assignments including Rs 665 crore from Cognizant Technology for development centers in Chennai and Kolkata.
L&T's ECC division has also secured Rs 300 crore order from CSJ Infrastructure for construction of 3 million sq ft building at Chandigarh for development of malls, office space & hotel.
The company has bagged Rs 408 crore contracts from ICICI Bank for construction of their office building at Hyderabad, which involves construction of 4 million square feet building area, having basement plus 16 floors.
L&T has secured an Rs 187 crore order from ITC Hotels for their Grand Chola Hotel at Chennai, which involves construction of 1.52 million square feet area to house 600 rooms.
Incidentally, in the last 9 months of this year, the business unit has so far bagged contracts worth nearly Rs 12000 crore including Mumbai International Airport Ltd (MIAL).
At 12:45 pm, the stock was quoting at Rs 4319 on BSE. It has touched an intraday high of Rs 4400 and an intraday low of Rs 4300.