Korea to double stockpile of influenza drugs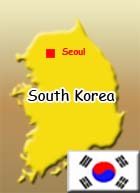 Seoul - South Korea plans to double its stockpile of the antiviral Tamiflu and other influenza drugs, health officials said Monday, responding to the outbreak of the swine influenza (H1N1) in Mexico and the United States.
Currently, the state-run Korea Center for Disease Control holds enough reserves of the antiviral drug Tamiflu to treat up to 2.5 million people, around 5 per cent of the population, director Lee Jong Koo said.
"We believe that the nation has a sufficient amount of influenza medicine, including Tamiflu and Relenza," Lee was quoted as saying by the national Yonhap news agency.
But government officials said they would increase the amount to be able to treat about 5 million people.
Since the weekend, South Korea also tightened inspections of travellers who have stayed in affected areas, while stepping up quarantine measures for pork imports from Mexico, the US and Canada.
South Korea also designated swine flu as an infectious livestock disease, allowing the authorities to cull sick animals and compensate farmers if a case of the disease is discovered in the country.
Officials said the government does not currently plan to ban the import of pork or live pigs. (dpa)