Kejriwal names his party 'Aam Admi Party'
Submitted by Neha Malik on Sat, 11/24/2012 - 21:09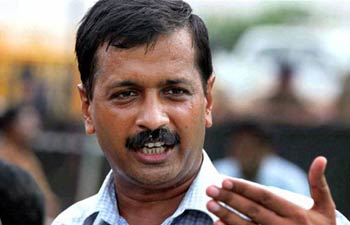 Anti-corruption activist Arvind Kejriwal on Saturday named his political party, and also adopted the Constitution for the organization.
At a meeting of nearly 300 founder members at Constitution Club in New Delhi, Kejriwal proposed `Aam Admi Party' name for his party, and other members accepted the name unanimously.
Prior to the meeting of founder members, Kejriwal said that their party was being formed by common men, women and children.
Before announcing name of his party, Kejriwal said, "They are the people who are fed up of corruption and price rise. This is why the common man has decided to challenge them. Now the common man will sit in Parliament."
The Constitution of the new party was proposed by Mayank Gandhi and seconded by Chandramohan, and all other members adopted it.
The party will have a treasurer and a secretary, but it will not have any general secretary or a president. The party also announced that it will have provisions against domination by a single family.
On September 19, Anna Hazare and Kejriwal parted their ways due to differences over forming a political party. While Kejriwal wanted to form a political party to fight both ruling party Congress and main opposition party BJP; Hazare remained stuck to his stance that the movement against corruption must remain apolitical.