Karat invites Jayalalithaa for Third Front meeting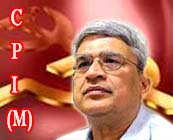 New Delhi, May 15 : Communist Party of India (Marxist) General Secretary Prakash Karat called All India Anna Dravida Munnetra Kazhagam (AIADMK) Chief Jayalalithaa on Friday.
Karat has invited Jayalalithaa for the Third Front meeting on May 18. Jayalalithaa has given her assurance to Third Front leaders that she will be in New Delhi on May 18.
Karat is also trying to woo Telugu Desam Party (TDP) Chief Chandrababu Naidu who is also in constant touch with Jayalalithaa.
Earlier, Karat said that leaders of the Left and the Bahujan Samaj Party (BSP) would meet on May 18 to discuss the possibility of forming an alternative secular government.
Karat said the Left parties will meet in New Delhi on May 17 which will be followed by the CPI (M)''s Politburo meeting on May 18 and Central Committee the following day. (ANI)