Jeev tied 14th at Dubai World Championships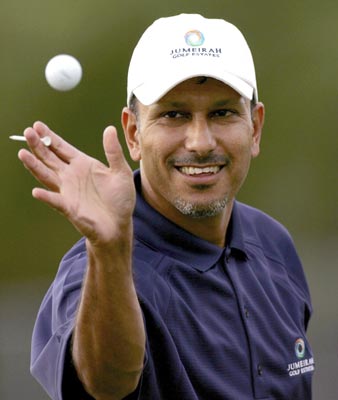 Dubai, Nov 19 : Jeev Milkha Singh poured in a tense 15-footer for par at the end of two-under 70 round and that kept him in a tie for 14th at the inaugural Dubai World Championships here Thursday.
It may only be the first of the four days, but the inaugural Dubai World Championships is turning out to be everything it promised and more.
A globe-trotting Australian Robert Allenby playing with brand new clubs held a one-shot lead over three others - a consistent Lee Westwood, hugely talented and young Chris Wood and the fashionable Colombian Camilo Villegas - at the end of an eventful first round at the spanking new Earth course designed by the legendary golfer Greg Norman.
Allenby had eight birdies, five of them on back nine, and one bogey for his 65, while Villegas turned in a bogey-free 66 and Westwood and Wood had seven birdies and one bogey each in their 66s.
Jeev opened the day with a birdie on first and then added two more on fifth and ninth, but in between on third he dropped a shot with a three-putt. On the back nine, he bogeyed the 12th and picked a shot on 15th before parring the last three.
"That was one of toughest tests of golf we had on the opening day. I had maintained that the pin placement will determine the scores, and that's what happened," said Jeev.
"I did not birdie a single par-five and that was a little disappointing. The pins were tucked and how you place your approach shots became extremely important. It made you think all the way. Just take my 18th for example - I thought given the pin on the right edge of the green, I'd be better off coming from the left side of the fairway. But I slightly pulled my 3-wood second shot and went straight towards the side of the corporate hospitality boxes, from where I made a very good par," he added.
Jeev said he was satisfied with the 70.
"I will take a round like this on any opening day, but I know that I left at least a couple of shots out there on the golf course. I three-putted twice - on the third for a bogey and on the par-5 seventh for a par," he added.(IANS)