Jayalalithaa complains of poll rigging at Chennai booth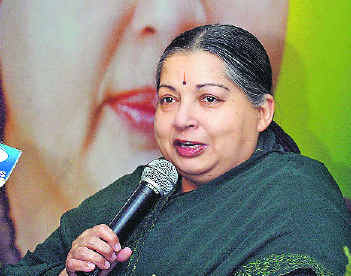 Chennai, May 13 (ANI): All India Anna Dravida Munnetra Kazhagam (AIADMK) chief J. Jayalalithaa on Wednesday complained about poll rigging at a booth in Chennai.
After casting her vote here, she said, "There are complaints of malfunctioning of the Electronic Voting Machines. To be specific, if a voter presses a button for the ''two leaves'' symbol, the light burns for ''rising sun'', symbol for the Dravida Munnetra Kazhagam (DMK0. So, they have complained to the authorities."
With 39 out of 543 parliamentary seats, Tamil Nadu is one of the biggest prizes in a battle between the DMK and the AIADMK.
Jayalalithaa, has joined the "Third Front", a group of smaller parties presenting themselves as an alternative to the Congress and the BJP.
A win for Jayalalithaa could boost the Third Front, which is led by the Communists. But, she is unpredictable and has allied in the past with both the BJP and the Congress. (ANI)