Introducing the World's First Reversible Multi Way T-Shirt, VERSATYL Reverso!
When it comes to fashion, consumers have lot of options. Textile companies and fashion houses are coming up with innovative ideas that offer better styling and comfort. One such brand, leading innovation in fashion is Versatyl.
Introducing 'VERSATYL Reverso', Versatyl's latest offering. This 4-in- 1 T-shirt is another revolutionary product that Saneen Javali, the brains behind Versatyl Wear, has brought to our lives. VERSATYL Reverso is the World's First Reversible Multi way wearable T-shirt. The Reverso T-shirt can be worn
in 4 different ways, essentially, ensuring that you get 4 unique, colourful T-shirts all wrapped in one amazing package.
The Patented VERSATYL Reverso – The World's First Reversible Multi way wearable T-shirt can be worn in 4 different ways – front panel, rear panel or reversed (front panel/rear panel). The entire T-shirt is made up of double layered fabric panels, ensuring its styling and elegance. The Reverso is a cost-effective way of sprucing up your wardrobe as it gives you variety while adding a pop of colour to your life. This stylish, one of a kind T-shirt is a necessity for every closet.
The VERSATYL Reverso is available to buy on Amazon and Versatylwear.com.
The success of Versatyl is a truly unique story. When Saneen Javali, an ex-IBM engineer, decided to make the foray into the apparel industry, rather than take the tried and tested conventional route to build the brand, he decided to take an innovative and ingenious approach, crowdfunding.
In less than a year since its launch, Versatyl the brand has raised INR 7 Million and has sold close to 22,000 pieces of apparel, going to on to become India's most crowdfunded apparel brand along the way.
The Versatyl Travel Jacket, was the first offering put up by the brand. This multi-utility travel jacket with 18 pockets and 29 unique features was an immediate hit and really got the public's attention right from the get go. This water-resistant jacket is the perfect travelling companion. The jacket has raised over INR 3.5 Million and is still going strong.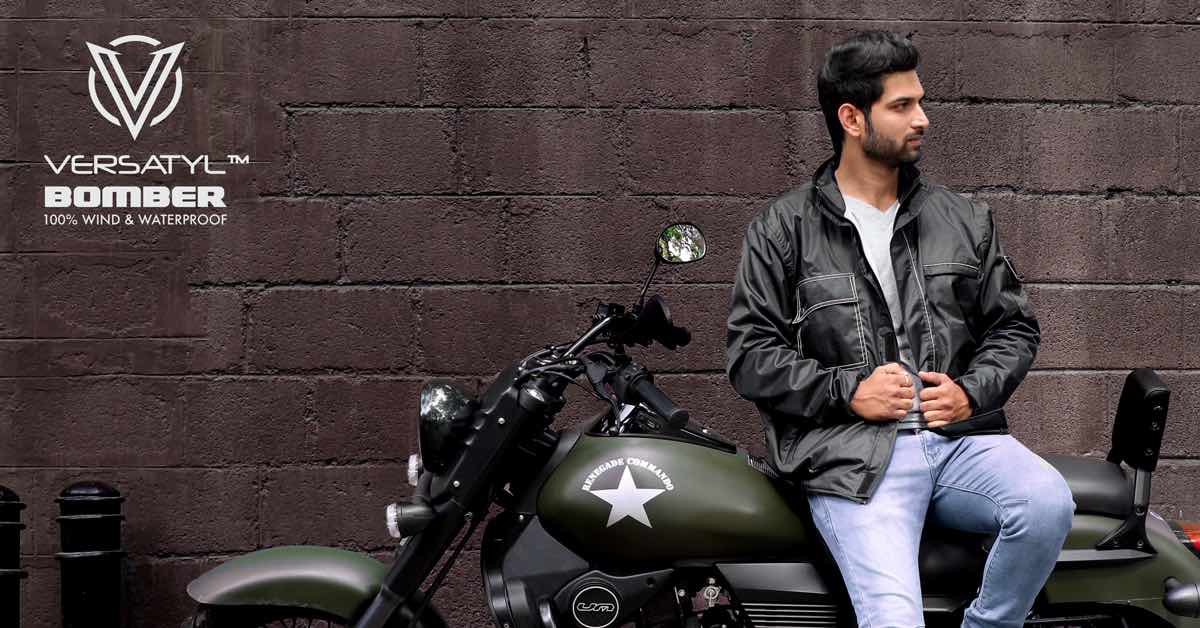 The Versatyl Bomber Jacket, with 20 pockets and 32 features the bomber jacket not only spoils you when it comes to the space it offers, but its outer water & wind proof material and inner cotton lining will keep you both dry and warm! The Bomber Jacket, like the Travel Jacket, gives you the freedom to carry everything from your wallet, to your passport, to magazines, a compact camera, a small water bottle, an iPad/tablet, a power bank, charging wires, earphones, a pen, books, a Kindle, keys and coinage. Best of all however, the jacket folds into its very own drawstring bag ensuring that it isn't a hassle to carry around.
The Award Winning Versatyl Feather Jacket, weighing in at under 180 grams, this lightweight, water-resistant jacket is the lightest jacket in the World. Recognised by the 'World Record India' and 'India Book of Records', this innovative jacket has a hoodie, a pocket and comes wrapped in its very own little pouch that fits in the palm of your hand. This jacket was a roaring success with over 10000 pieces delivered to happy customers.
The Versatyl Air Jacket, this revolutionary jacket took jackets to a whole other level. With built-in super quiet, super powerful fans and a power bank, the Air is must have. Say goodbye to hot, sticky, uncomfortable weather. This jacket will keep you warm in the cold and cool in the heat. The jacket with 20 features in addition to its innovative cooling technology made it a wardrobe essential.
The Versatyl Switch Jacket, is a one of its kind jacket. With RFID protection and 18 features, the Switch with 11 hidden pockets allows you to carry all your essentials from your phone, wallet and keys to your iPad, passport, power bank and much more. The jacket is reversible, giving you the luxury of having two stylish looks with just one jacket. However, the coolest feature about this jacket are the two built in RFID protection pockets. They ensure that your credit card, debit card and passport are secure and cannot be compromised by high-tech skimmers and digital theft.
Saneen's main aim when he began the Versatyl journey was to give consumers new, fresh, innovative, revolutionary apparel to pick and choose from. He believed that the market was saturated and people were looking for interesting, useful and stylish pieces to add to their wardrobes. Versatyl Wear is constantly coming up with new products that push the boundaries in the apparel industry.
Saneen, who quit IBM in 2010 to run a garment factory says, "I used to manufacture all kinds of Jackets, uniforms, bottoms to many of our clients. There were Ups and downs and maybe I was just trying my best to survive in the rat race but I knew that I could do something out of the box and I really wanted to give the world and myself something Unique & Innovative and that is when my Brand "VERSATYL" came into picture."
To buy this T-shirt please go to either Amazon or the VersatylWear website.