India's first greenfield airport in Hyderabad ready for operation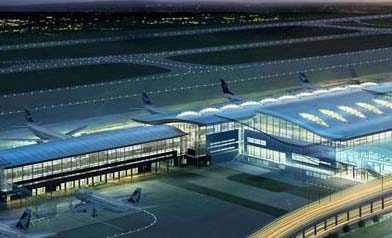 Hyderabad, Feb 13: The new Rajiv Gandhi International airport at Shamsabad in Hyderabad has witnessed test flights and landings ahead of commercial operations planned for next month.
The airport witnessed test flights and landings in the presence of Union Civil Aviation Minister Praful Patel.
Patel said the new airport would be inaugurated on March 14.
"This is the beginning of new chapter. India's truly first world-class airport will be commencing operation in the month of March," Patel said.
The newly built airport is expected to provide much-needed infrastructure in a bid to cater the growing need of the global interchange of passengers and goods.
Being built at a cost of six billion dollars, the airport is expected to become functional by March 16.
Situated about 18 miles from Hyderabad, Rajiv Gandhi International Airport is the country's first greenfield airport.
The airport is being developed by infrastructure developer GMR Infrastructure. (ANI)