Indian Stocks Remain Lower Even After Statement Issued by Finance Minister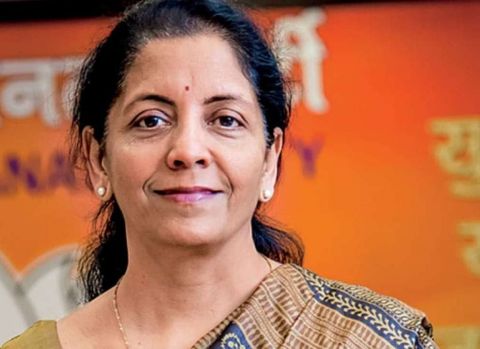 A high wave candlestick pattern is seen as Nifty ends the week and August month. On a Weekly scale a High wave candle amid the ongoing Trade war, Global economic recession worries, inverted yields and if not then precious metals recent run with Dollar scaling to new monthly highs. So this does represent an outright confusion that is there in the undertone of the market. The Entire August has been within a range of 10700 - 11100 which was pretty much in line with expectation since the heightened volatility market has been through in last July a consolidation and sideways was impending.
The global markets are reacting to every information that can possibly be fetched from News portals or twitter. The global markets have now eased after previous week's retaliatory tariffs shocks and recovered last week's losses. S&P, DJIA and FTSE have recovered significantly paring previous week's losses. Buying was seen mostly in industrials and Tech space.
On the domestic front, FM Speech was able to save the market at 10700 but couldn't cheer enough as 11100 was not taken out. Hence the selling pressure is there at higher levels. Markets are waiting for further developments as there are other speeches that are pending and some announcement is expected that government may take to boost growth.
With this in last month, we have seen positive momentum in Realty space, Oil and PSU space. Consumer durables, Automotive and Technology space also seen picking up. Realty space is expecting some major announcement from FM.
"Though FM is pointing out the recent developments, the market is expecting any stimulus or any sector-specific announcement that can lead the and boost the sentiments.
The banking sector is one of the major beneficiaries. The Public sector banks consolidation was majorly needed and with banks number coming down from 27 to 12 is a major reform. The integration will provide further liquidity and help in organic growth. Since we have had a long time hearing of Bank's NPA this move will make sure the consolidation brings synergy in baning space. The risk management committee is going to further transparency to bank's balance sheet and its health. The aim is focused on two points. firstly the growth, as many of the banks are in profit but there are constraints on capital. So this may address some leaks that re aiding to a liquidity crisis in the medium term to long term. We believe the major benefit will be to Banking space. Post that we believe NBFC and other allied spaces should get ripple effects out of it."
Global markets and Back here as well we are awaiting the much-anticipated meeting that is going to be held between Trump and his Chinese counterpart. Investors and Traders are eager to know whether we have the ongoing crisis coming to an end or the volatility is the flavour that continues.
Nifty may continue to be in range 11100 to 10700 and either side has to be taken out. This is a very important level. We have 100 SMA on a weekly scale at 10891 and it has done some wonders in the past for bulls. So no one should be aggressively short here and if not be cautious in approach. A pick up in short covering would be seen if Nifty manages to close above 11100.