Indian Rupee continued its fall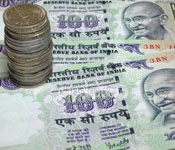 Rupee remained weak against the US dollar on second consecutive day. The reason behind the fall in Rupee is fresh dollar demand due to fall in markets. Some funds are taking their money out of Indian Markets. The Indian currency was quoting 15 paise lower during early trading hours. However Yen was stronger in overseas markets.
As per the recent reports, there is a fall in the US Consumer confidence. Downgrade ratings of financial firms due to the credit market issues had a negative impact on the forex market. Forex Experts expect the conditions to remain the same for next few trading sessions.
In trading session was volatile at Interbank Foreign Exchange market. Indian Rupee started the day at 41.32/33 per dollar with a fall of 16 paise from yesterday's close. There was small recovery seen to 41.25/27 levels after couple of hours. Oil refiners were buying more dollars to meet their targets for month-end import payments.