India, Nepal resume security talks in Kathmandu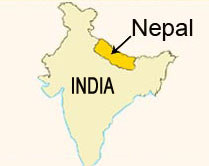 Kathmandu, Dec 4 : India and Nepal resume talks in security cooperation in Kathmandu Friday to review the progress of the high-level commitments made between the two governments during Nepali Prime Minister Madhav Kumar Nepal's official visit to India in August.
The three-day talks, delayed Friday due to the widespread excitement about the Nepal cabinet's historic meeting at the foot of Mt Everest, are led by Satish Mehta, joint secretary at India's external affairs ministry, and his Nepali counterpart Khaganath Adhikari.
Officials from the ministries of defence, home affairs and foreign affairs as well as security forces and Nepal's National Intelligence Department are participating in the talks that will focus on sharing information to combat cross-border terrorism more effectively.
The two sides will also discuss providing training to Nepal Army in India as well as non-lethal military hardware.
India had also promised during the New Delhi visit of Defence Minister Bidya Bhandari earlier this year to help construct an air strip in Surkhet in western Nepal, one of the worst affected districts during the Maoist insurgency.
The security talks follow the meeting of the home secretaries of both countries in Kathmandu last month.
Nepal however is yet to suggest dates for Home Minister Bhim Rawal's official visit to India.
Rawal called off his visit last month citing the increased turbulence in Nepal after the Maoists began street protests against the coalition government, paralysing administrative offices nationwide.
The home ministry is yet to come up with fresh dates.
The local media in Nepal had speculated that Rawal's visit was postponed for fear of Indian pressure to sign an updated extradition and mutual legal assistance treaty which has been in the pipeline for nearly eight years. (IANS)