Imran Khan asks political parties to suggest exit strategy for Musharraf
Islamabad, Jan 12: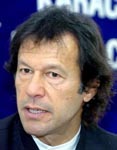 Pakistan Tehreek-e-Insaf (PTI) chief Imran Khan has asked all political parties to sort out an exit strategy for President Musharraf over his failure in controlling affairs of the government.
"I intend to call a meeting of All Parties Democratic Alliance (APDM) to discuss options available for building national reconciliation on a common agenda. I would contact parties outside the APDM including Pakistan Muslim League-Nawaz (PML-N) and Pakistan Peoples Party (PPP) to bring them on board," the Daily Times quoted Khan as saying.
"Deteriorating law and order situation, heavy human losses due to army operations, increasing suicide attacks, and negative statements by western officials about nuclear programme were posing a serious threat to the sovereignty of Pakistan," he added.
He alleged that West had been exploiting Pakistan for its own vested interests and wanted to roll back the nuclear programme by using these tactics.
Khan further suggested a formation of a popular government to hold free and fair elections in Pakistan.
"Polls were not the solution for the prevailing national crisis, but transfer of power to civilian government according to will of people," he added. (ANI)