Improved putting takes Jeev to 15th place; Westwood in lead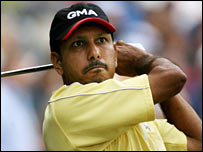 Dubai, Nov 21 : A much-improved performance with the putter made all the difference as Jeev Milkha Singh despite two bogeys came back with a four-under 68 that saw him move up from tied 22nd to 15th at the end of the third round of the Dubai World Championships golf here Saturday.
Jeev at six-under 210 is nine shots behind leader Lee Westwood (66) but a good final round could easily get the Indian into top-10 as he is only three behind sixth-placed duo, Geoff Ogilvy (68) and Sergio Garcia (69).
A late bogey-streak on the last three holes may have done Rory McIlroy's chances some serious damage as he finished with a round of 69, that at one stage looked good for a 66, which was what his main rival Westwood shot with six birdies and no bogeys to open up a five-shot lead over second placed Ross McGowan, who also had an error-free 66.
Jeev, who opened the third round with a bogey on first, then landed four birdies on the front nine to turn in 33. Back-to-back birdies on 14th and 15th brought him to five-under for the day and at seven-under for the tournament, he was looking good for a top-10.
But a bogey on 16th, where he had dropped a double bogey in the second round, halted that progress and he finished at 68 and six-under for 54 holes.
"Honestly, the only thing different between my game on Friday and Saturday was my putting. I hit the ball almost as good as I did in the second round, but as a couple of putts dropped, the score became a much healthier four-under par 68," said Jeev.
"The only way I could make the putts to drop was by ensuring that I hit them hard enough to reach the holes. That's something I did not do on the first two days as I left a few of them short."
Jeev added he was aiming for a good finish. "Given the position that I am in, I can only do one thing on the final day -- play aggressive golf and try to better my position in the Race to Dubai. I would love to get into the top-15 and not only get a share of the bonus pool, but also ensure my spot in next year's Open Championship and the US Open."
Westwood finished the third day five shots clear of McIlroy, who shares the third place with Swede Alexander Noren and two-time Open champion Padraig Harrington, who recovered from his double bogey on 18th on Friday with a birdie on Saturday.
In between Westwood and the third placed trio is McGowan, who ran up a four-birdie streak between sixth and ninth en route to his 66 that placed him at 13-under and two behind Westwood.
McIlroy, sitting at six-under through 15 holes, found the edge of the water with his approach on 16th and could only chip out for a five before three putting the 195 yard 17th. A further bogey followed on the 620-yard 18th as his approach shot found the water, leading him to sign for a costly 69.
Westwood's stellar round included, for the second consecutive day, a fine birdie at the tough par five finishing hole
If Westwood wins the last tournament of the European Tour season, he will receive $1.25 million in prize money as well as a $1.5 million bonus for winning the Race to Dubai money prize. McIlroy leads the money list but Westwood could overtake him if he wins the event.(IANS)