Human error nearly downed Emirates Airbus, inspectors say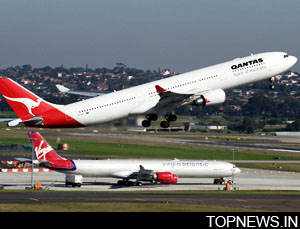 Sydney - Human error was behind an Emirates Airlines jet coming within centimetres of crashing at Melbourne airport last month, the Australian Transport Safety Bureau (ATSB) said Thursday.
Keying in the wrong take-off weight in a flight computer meant the Airbus A340-500 struggled to clear the 2.4-metre perimeter fence.
The plane, carrying 225 passengers on a flight to Dubai, scraped its tail along the tarmac, forcing the pilot to abort the flight and make an emergency landing.
"There's no suggestion of any problem with the aircraft," ATSB director Julian Walsh told reporters in Canberra.
Damage was so extensive that the plane hasn't flown since the March 20 incident.
At the end of the runway the plane was not airborne and left tyre tracks in the soft ground in front of the perimeter fence.
The Airbus was so close to the ground it snagged on strobe lights at the end of the 3,600-metre runway and smashed navigation antennae. The strobe light installations are only 70 centimetres tall.
The Aviation Herald website speculated that the crew may have keyed a 2 instead of a 3 in the weight data entry column and the plane was calibrated for a take-off 100 tons less than its actual weight of 360 tons.
The pilots, who resigned from Emirates after the incident, received high praise for their skill in getting the plane airborne.