Hillary Clinton wins New Mexico caucus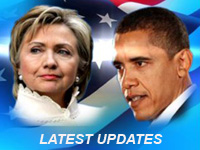 Washington, Feb 15 : Democrat Senator Hillary Clinton finally had some good news with the New Mexico caucus result going her way.
Hillary suffered eight consecutive defeats before this win at the hands of the party rival Barack Obama since the 'Super Tuesday' vote.
Clinton, bidding to become the first woman President of the US, got 73,105 votes compared to Obama's 71,396 in the New Mexico contest.
The result declared on Wednesday night gave Clinton, the Senator from New York, one extra delegate. She narrowly trails Obama, first time Senator from Illinois, in the delegate count 1,237 to 1,289.
They both need 2,025 delegates to secure their nomination for the Presidential election in November.
In a statement, Clinton, wife of former President Bill Clinton, said she was "so proud to have earned the support of New Mexicans from across the state".
"As President, I will continue to stand up for New Mexico and will hit the ground running on day one to bring about real change," she added. (ANI)