Heavy rains shower miseries in flood-hit Gujarat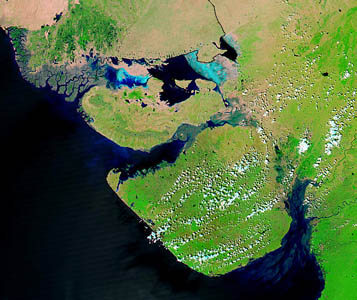 Surendranagar (Gujarat), Sept 20 : Villagers in Gujarat''s Surendarnagar are facing hardship as floodwaters have submerged more than 20 villages.
Though more than 4000 people have been evacuated to safer places, and many more displaced villagers await succor.
The entire region has been converted into a virtual island and the standing water has damaged crops and entire fields.
Army has also been called to carry out rescue operations. Fire brigade officials have also been pressed into action.
According to the people, nearly 15 lakes and ponds in different villages in the district have also been breached, adding to the already grim flood situation.
"I have nearly lost everything. Nobody has turned up even to enquire about our situation. We have not had food to eat since the past three days," said Kantaben, a flood-victim.
Many others, who have not been as lucky as Kantaben, have been spending nights under the open sky as their houses have been washed away alongwith their belongings.
"We have not received any food and we do not have shelter. We have been spending the cold nights under the sky. Our children are hungry, and nobody is concerned," said Bhikhabhai, another flood-victim.
Surendranagar-Ahmedabad Highway also remains closed.
Floodwaters have submerged more than 20 villages for the last three days in Gujarat. (ANI)