Hazare''s condition stable
Submitted by Hardeep Sidhu on Tue, 08/30/2011 - 17:18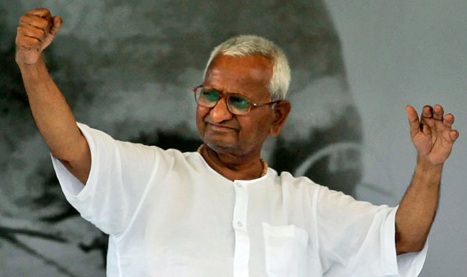 Gurgaon, Aug 30: Anna Hazare''s health is improving and his blood pressure and heart rate are becoming stable, said Dr. Yatin Mehta of Medanta Medicity in Gurgaon, where the social activist has been admitted after he broke his fast on Sunday.
Talking to reporters here, Dr. Mehta said: "His (Anna) condition is stable. He has started walking. All parameters are good now. He is on soft diet."
"His blood pressure is124/88. Ketone levels have gone down. It will take 4-5 days for him to be out of the hospital," he added.
After securing Parliament''s nod on key elements of Jan Lokpal bill, Hazare broke his over 288 hour-long fast on Sunday declaring that electoral reforms will be next on his agenda.
The latest developments came after both the Houses of Parliament on Saturday agreed in principle with Hazare''s three key demands.
Both Houses of Parliament adopted a resolution on the sense of house accepting key demands of Hazare on citizen charter, lower bureaucracy to be under the ambit of Lokpal and establishment of state lokayuktas and power of Lokpal to penalise grievance redressal mechanism violators. (ANI)
Technology Sector