Hazare weak but well, to address rally
Submitted by Hardeep Sidhu on Fri, 09/02/2011 - 17:42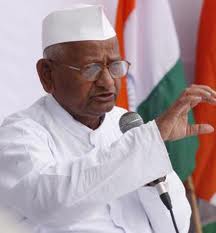 Ahmednagar (Maharashtra), Sep 2 : Anti-corruption crusader Anna Hazare is still feeling "a little weak" after his hunger strike but is set to address a rally here later Friday.
D. G. Pote, who examined Hazare at his home in Ralegan-Siddhi village Friday morning, said his blood pressure and other vital parameters were normal though he felt weak following the 13-day fast in New Delhi.
"He is taking normal diet with a lot of fruits and vegetables and there is no cause for concern," said Pote, Hazare? s private physician.
Hazare is scheduled to address a rally here Friday, and organisers expect more than 10,000 people to attend.
Pote said he had advised the 74-year-old to speak briefly at the rally and refrain from meeting or speaking to people individually to avoid straining himself.
Ralegan-Siddhi, Hazare's village in Ahmednagar district, is around 75 km from Pune.
Hazare went on a fast Aug 16 in support of a strong anti-corruption legislation. The campaign, during which he was briefly sent to jail in the capital, ignited nationwide solidarity protests.
He ended the hunger strike after the Lok Sabha agreed to consider his three key demands: Lokayuktas in all states, including lower bureacracy in the Lokpal, and citizen's charter for all government departments.(IANS)
Technology Sector