Hazare not to support Advani''s ''politically opportunistic'' anti-graft campaign
Submitted by Hardeep Sidhu on Wed, 09/14/2011 - 15:01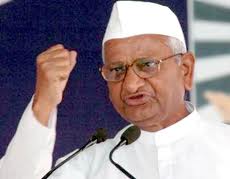 Ralegan Siddhi (Maharashtra), Sep. 14 : Veteran social activist Anna Hazare has said he will not support the anti-graft Rath Yatra of senior Bharatiya Janata Party (BJP) leader L. K. Advani, because it is driven by political opportunism.
Speaking from his village Ralegan Siddhi, Hazare said that had Advani and the BJP really been serious about removing corruption, they would have taken a firm stand in support of the Jan Lokpal Bill and also pushed for the appointment of Lokayuktas in states, at least in thos regions where the BJP was heading the government.
"We will not support him at all. If the chariot procession was really against corruption, he would have openly questioned the government on the Ombudsman Bill. Since he has not done so, we suspect his true motive," Hazare said.
Rejecting allegations levelled against his associate, Arvind Kejriwal, for using derogatory language against federal representatives and institutions, Hazare said that these are baseless accusations, and said that the ruling Congress party only sought to divert attention from the anti-graft movement.
"That is wrong. This is a conspiracy of the Congress government, to defeat our movement by making such accusations against our supporters and misleading the people. If law was violated, why did they not complain for so many days? Were they sleeping? They should have raised the issue immediately," he added.
Hazare said that the common man took to the street because of extreme frustration with their leaders.
"It is their job to make laws. When they fail to do so, it is the job of the people to put pressure on them. The Ombudsman Bill has been tabled eight times in the last 42 years, but no law came into force. What will the public do, in that case, except applying pressure? And that is not all. In the next general elections, the people will stop sending such leaders to Parliament," he asserted.
Hazare has asked the government to immediately takes steps to eradicate corruption by formulating and implementing an effective anti-corruption law, the Lokpal (Ombudsman) Bill.
The proposed Bill envisages the setting up of a national anti-corruption watchdog to check financial mismanagement and corrupt practices that have deeply pervaded several democratic and civic institutions of India. (ANI)