Harman-Priyanka's rumored 'split' before film release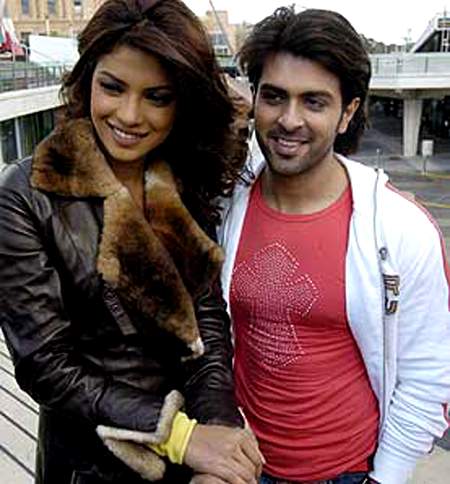 What might just be another publicity pull - as Priyanka Chopra's new film, 'Fashion' is set for release next week - Priyanka's "very good friend" Harman Baweja has denied rumors of an affair with the actress!
Stories of break-up in their love story started making rounds after their film 'Love Story 2050' couldn't do well in the theatres. After the film was lambasted by critics, and loathed by audiences, Priyanka has been shyly evading the question of her relationship status, while Harman has uttered a defiant 'No'.
When questioned about it, by one of the news dailies, Harman said: "I never said we were a couple before. So why should I react when people are splitting us." Sounds strange, especially when Harman and Priyanka have been seen exchanging sweet-nothings, smiling lovingly at each other, and appearing at parties together!
Harman is presently shooting for Anees Bazmi's 'It's My Life'. Talking about his busy schedule, the actor said: "I've no time to socialise or to make my presence felt in the so-called right places. Finally, it's not your networking but your work that decides your career."
Sources close to the couple swear Harman and Priyanka are very much together. A mutual friend of the two revealed that "both of them are so busy, and yet they try to meet up at least once every day."
In fact, very soon, Priyanka and Harman would start shooting together for Ashutosh Gowariker's film, 'What's Your Raashee.' May be their intense romance will come into limelight once again, setting the rumor-mills abuzz! Undoubtedly, strange are the ways of Bollywood!