Harley-Davidson officially launches new electric bicycle company; displays prototype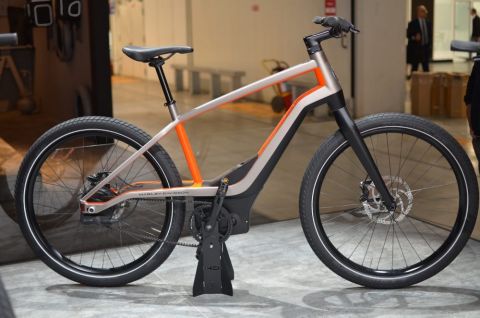 Harley-Davidson, the world-famous bar-&-shield motorcycle manufacturer, has finally announced the launch of a new dedicated electric bicycle brand called Serial 1 Cycle Company. The name of the new dedicated electric bicycle brand is an homage to "Serial Number One," which was the very first motorcycle manufactured by Harley-Davidson more than a century ago -- in 1903.
At the time, motorcycles were slightly more than simple bicycles with a small engine placed in front of the pedals. Thus, it doesn't look odd that the company decided to give homage to its very first motorcycle with its very first electric bicycle brand.
Aaron Frank, brand director for Serial 1 Cycle Company, expressed hope that the company's newly launched brand will once again change how people move around the globe. He stressed that the company originally changed the way the world move in 1903 by putting power to two wheels.
Speaking on the topic, Mr. Frank said, "When Harley-Davidson first put power to two wheels in 1903, it changed how the world moved, forever. Inspired by the entrepreneurial vision of Harley-Davidson's founders, we hope to once again change how cyclists and the cycling-curious move around their world with a Serial 1 eBicycle."
The new electric bicycle brand actually came into existence as a skunkworks project in the famous motorcycle manufacturer's Product Development Center. The manufacturer stressed that a small group of passionate motorcycle and bicycle enthusiasts worked together to design and develop the H-D eBicycle. Ultimately, the team could deliver a premium e-bike product and a unique experience. The Serial 1 Cycle project included H-D president Jason Huntsman, Vice President Ben Lund, and lead brand marketing specialist Hannah Altenburg.
The e-bike prototype, styled after the original 1903 Serial Number One motorcycle, includes a mid-drive motor, a belt drive system which looks very much like a Gates Carbon Drive setup, frame-integrated headlights & tail lights, thru-axle wheel hubs, brilliantly wrapped leather handgrips and a Brooks-branded leather saddle. The prototype shares the same frame as one of the original three e-bike prototypes that were reported last year at the 2019 EICMA Milan Motorcycle Show.
As per H-D's plans, the newly launched Serial 1 Cycle Company will officially debut its first eBicycle models for consumers in the first quarter of next year.