Gold Resiles The Global Market, Silver Did The Same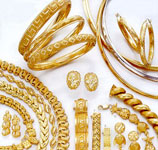 Gold, rebounding on the bullion market on Saturday closed with a gain of Rs 55 at Rs 8,720 per ten gram, and Silver also did show surge on the market.
According to Marketmen, fresh buying by retailers and jewellery fabricators on the back of firming trend in overseas markets mainly helped pumping up the gold prices.
On the Comex division of the New York Mercantile Exchange in late evening, Gold rose by 4.20 dollars at 654.80 dollars an ounce, while silver rose by 17.7 cents at 12.757 dollars.
August crude oil was up 51 cents to 72.32 dollar a barrel and had peaked at 72.94 dollar, its strongest level since last September also helped gold prices to go up.
Standard gold and ornaments hiked up by Rs 55 each at Rs 8,720 and Rs 8,570 per ten grams respectively while sovereign, remained flat Rs 7,550 per piece of eight gram. Silver surged by Rs 150 at Rs 17,350 per kilo and weekly-based delivery by Rs 70 at Rs 17,420 per kilo. Silver coins gained Rs 100 at Rs 23,300 for buying and Rs 23,400 for selling of 100 coins in line with general trend.