Goa woman held for acting as British national to dupe businessmen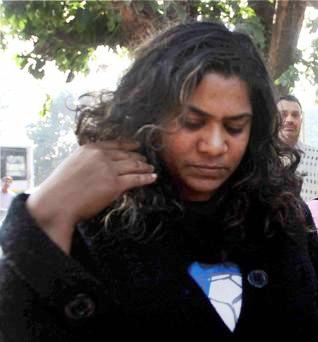 A woman from the state of Goa has been arrested for acting as British national and duping businessmen by promising huge investments in their business ventures.
Theresa Jovita D'souza, who is a native of Goa, also used fake documents carrying the names of institutions such as the International Monetary Fund and the Reserve Bank in her efforts to convince her targets and promised them huge returns.
Andhra Pradesh-based granite businessman P. Rahmatullah has filed a complaint with the Economic Offences Wing of Delhi Police informing them of several e-mails from someone called Johnson Mallon, who claimed to be a British citizen.
A police official said that Johnson informed Mr. Rahmatullah that they are interested in becoming his business partner in India. Johnson and Theresa posed as Rhea Jannet Mallon and met his son at Ashoka Hotel in Delhi and promised huge investment in their granite business. Mr. Rahmatullah also paid for her visit to his factory in Adoni district of Andhra Pradesh.
The accused informed the victim that their $8,00,000 is with the IMF in Delhi and they need Rs. 10 lakh for getting the fund cleared. She had promised that a part of that fund would be invested in the business.