Genesis releases first U.S. sales data for Electrified G80 executive sedan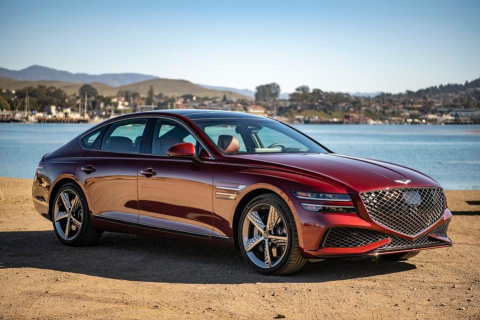 Genesis, a luxury brand that was created in 2015 as South Korean auto giant Hyundai's upscale spinoff, has released sales statistics for the all-new Genesis Electrified G80 full-size sedan in the United States.
According to the released stats, Genesis sold a total of 33 Electrified G80 sedans in January 2023 in the U.S. the figure seems to be quite small compared to 226 internal-combustion engine-powered G80s sold during the same month. Nevertheless, it shows the brand's gradual shift from conventional internal combustion engines to environment-friendly electric powertrains.
In fact, the volume of EVs sold in the U.S. last month isn't particularly high, but compared to the company's total sales of some 3,900 units, it accounts for more than 4 per cent.
It may be noted here that the luxury sedan in question is being offered by select retailers in just around a dozen states. In addition to the Electrified G80, the South Korean luxury brand sold 129 Genesis GV60, which can be described as the E-GMP-based cousin of the Hyundai Ioniq 5 and Kia EV6 SUVs.
For reference, the Hyundai Ioniq 5 attracted 1,548 buyers last month, while the Kia EV6 accounted for sales of 1,110 units. In the whole of last year, Genesis sold some 1,590 GV60s in the U.S.
For the luxury brand, things are expected to significantly get better with the all-electric Genesis Electrified GV70's entry into the U.S. market. The GV70, the brand's third all-electric vehicle, was recently introduced at the L.A. Auto Show, will be locally produced in the company's Montgomery, Alabama-based production facility.
It is also worth-noting here that only US-made EVs are eligible for the federal government's tax credits/incentives of up to $7,500. Thus, almost all major manufacturers are trying to partially shift their production to the North American country.
As the internal combustion engine-powered version of the GV70 is one of the most popular models in the company's lineup, Genesis has high hopes from its electrified version too, which will come equipped with a 77.4-kWh battery pack. The all-electric GV70 utilize some parts from the E-GMP platform but it will not be totally based on E-GMP based, like the Genesis GV60.
Priced at $65,850, the Genesis Electrified GV70 sedan will also be eligible for the U.S. government's $7,500 federal tax credit. That is surely going to be an important factor in the EV's success.