First swine flu case suspected in Lithuania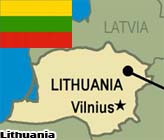 Vilnius - Lithuania's health authorities were awaiting the results of tests Thursday in what could be the first case of swine flu in the Baltic states.
Samples taken from a Lithuanian citizen who returned to the country from Mexico on April 23 have been confirmed as containing a Type A influenza virus.
The samples have been sent to specialist laboratories in the United Kingdom to confirm whether it is swine flu, the Lithuanian Health Ministry said in a statement.
The possible victim, who is male, is reported to have felt unwell with flu-like symptoms on April 25 and submitted himself to tests on April 28. He was said to be in good health at present.
Late Wednesday the World Health Organization upgraded the status of the swine flu virus' spread to grade five out of six, indicating that a global pandemic is thought to be "imminent."