First lady Michelle more popular than Obama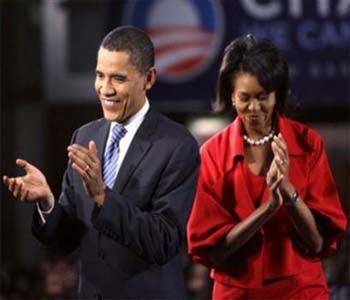 Washington, Oct 23 - President Barack Obama has competition at home. It seems Americans view his wife Michelle more favourably than him, indicating a reversal of fortunes since his election last November.
A new poll shows a surge in positive views of the first lady even as her husband's ratings have eroded.
Michelle Obama is now viewed more favourably than the president, and her standing is nearly 50 percent higher than Vice President Joe Biden.
As the first anniversary of Obama's election approaches, the USA Today/Gallup Poll taken over the past week finds:
* Obama is viewed favourably by 55 percent, unfavourably by 42 percent.
Non-Hispanic whites are evenly split, 49 percent-49 percent, while his rating among blacks is overwhelmingly positive, 90 percent-9 percent.
The day after his election, on Nov 5, 2008, his overall favourable rating was 68 percent-27 percent.
* Michelle Obama is viewed favourably by 61 percent, unfavourably by 25 percent. Her standing among non-Hispanic whites is 57 percent-30 percent; among blacks, it is 91 percent-5 percent.
About a year ago, in a USA Today poll taken Sep 5-7, 2008, her overall favourable rating was 54 percent-30 percent.
* Biden is viewed favourably by 42 percent, unfavourably by 40 percent.
Down from 59 percent-29 percent last November, that's a steeper fall than his boss.
* John McCain, the Republican presidential candidate in 2008, is viewed favourably by 54 percent, unfavourably by 37 percent. That's a drop from the day after the election, when his ratings were 64 percent-33 percent.
The poll of 1,521 adults, including 933 non-Hispanic whites and 408 blacks, was conducted Friday through Monday over the phone.
The margin of error is +/- 3 percentage points for the full sample, 4 points for the white sub-sample and 6 points for the black sub-sample, USA Today said. (IANS)